Slot:

1

2

3

4

5

6

7

8

9

Start
Time:

Fri.
1:00 pm

Fri.
7:00 pm

Fri.
11:30

Sat.
8:00 am

Sat.
1:00 pm

Sat.
7:00 pm

Sat.
11:30 pm

Sun
8:00 am

Sun
1:00 pm

End
Time:

Fri.
5:00 pm

Fri.
11:00 pm

Sat.
3:30 am

Sat.
noon

Sat.
5:00 pm

Sat.
11:00 pm

Sun
3:30 am

Sun
noon

Sun
5:00 pm
Now Accepting D&D Event Proposals!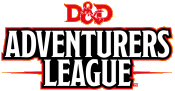 The D&D Adventurers League is a program to play and organize Dungeons & Dragons games in a unified seasonal storyline. Play is supported through the published D&D adventures as well as the individual D&D Adventurers League modules. Play anywhere, at home, online, in stores, conventions, clubs, cafes, libraries, rec centers, anywhere.
Players that have created a character and have recorded their rewards on a logsheet can take that character ANYWHERE in the world that D&D Adventurers League games are being played and join in the action! All characters must be created at first level. Higher level adventures are restricted to characters who have been advanced through Adventurer's League play.
Character creation rules are available here.
---
---
Fai Chen's Fantastical Faire is the D&D Adventures League trading post. At the Faire, players may trade permanent magic items certificates and may purchase consumable item certificates. Fai Chen's inventory changes over time, and there is only so much that can fit in his cart and that his mule can pull. Therefore, the items available at the Faire change over time and are only available in limited quantities.
Fai Chen seeks certified, tradable, permanent magic items, which he will only trade for other permanent items of the same rarity from his inventory. These trades follow the rules in the D&D Adventurers League Player's Guide. Be sure to review them before trading. The following additional rules also apply:
Fai Chen does not trade consumable magic items, even tradeable ones. Instead, he sells them.
Fai Chen has little use for gold and therefore will not sell permanent magic items. He also will not buy any items.
Players are free to use the Faire as a meeting ground to trade with other players. In fact, Fai Chen encourages it!
Fai Chen evaluates the rarity of magic items using the Dungeon Master's Guide. He will not be fooled by the text on the certificate itself, as it is sometimes wrong. Be sure to verify the rarity of your item before attempting to trade it, so you know what items Fai Chen will trade to you.
Each person is limited to one transaction (purchase or trade, not both) per session, regardless of the number of characters he or she has.
In addition to trading permanent magic items, Fai Chen sells consumable magic items from time to time. If you wish to purchase an item from Fai Chen:
You will have to present a valid adventure logsheet for your character.
After you have selected an item, you will be asked to fill out a logsheet entry. The "Adventure Name" is Fai Chen's Fantastical Faire. The "Session #" is the slot of the Faire.
Times:
"A" Friday 12:00 - 13:00 (During this pre-convention session preference will be given to judges and staff.)
"B" Friday 18:00 - 19:00
"C" Saturday 12:00 - 13:00
"D" Sunday 12:00 - 13:00
"E" Sunday 17:00 - 18:00
---

The story rich Living Arcanis Organized Play campaign returns in a 5e setting (variant races/classes, but standard rules). The current Story Ark is Coming of the Destroyer. Immerse yourself in a campaign with a detailed background, complicated politics and few clear-cut moral decisions. Play descendant of the gods, or descendant of the demons, or descendant of the elements (plus many other options). Pre-gen characters provided or download most current campaign primer free at http://www.paradigmcampaigns.com/DefaultLivA.aspx
---

Living Divine Introductory Track
You are a god among men, born with the spark of divinity within you. Gather followers, build an empire, start a legacy. Will you be merciless and power-hungry? Or benevolent and kind? Begin your rise to immortality in this massive persistent Dungeons & Dragons 5th edition campaign.
---

These are events that are not part of n organized play campaign. See the event description for characters needed.

---