Slot:

1

2

3

4

5

6

7

8

9

Start
Time:

Fri.
1:00 pm

Fri.
7:00 pm

Fri.
11:30

Sat.
8:00 am

Sat.
1:00 pm

Sat.
7:00 pm

Sat.
11:30 pm

Sun
8:00 am

Sun
1:00 pm

End
Time:

Fri.
5:00 pm

Fri.
11:00 pm

Sat.
3:30 am

Sat.
noon

Sat.
5:00 pm

Sat.
11:00 pm

Sun
3:30 am

Sun
noon

Sun
5:00 pm
We are now accepting event proposals and judge registrations for all D&D events!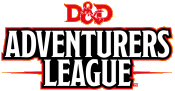 The D&D Adventurers League is a program to play and organize Dungeons & Dragons games in a unified seasonal storyline. Play is supported through the published D&D adventures as well as the individual D&D Adventurers League modules. Play anywhere, at home, online, in stores, conventions, clubs, cafes, libraries, rec centers, anywhere.
Players that have created a character and have recorded their rewards on a logsheet can take that character ANYWHERE in the world that D&D Adventurers League games are being played and join in the action! All characters must be created at first level. Higher level adventures are restricted to characters who have been advanced through Adventurer's League play.
Character creation rules are available here.
---
---

The story rich Living Arcanis Organized Play campaign returns in a 5e setting (variant races/classes, but standard rules). The current Story Ark is Coming of the Destroyer. Immerse yourself in a campaign with a detailed background, complicated politics and few clear-cut moral decisions. Play descendant of the gods, or descendant of the demons, or descendant of the elements (plus many other options). Pre-gen characters provided or download most current campaign primer free at http://www.paradigmcampaigns.com/DefaultLivA.aspx

---

Living Divine Introductory Track
You are a god among men, born with the spark of divinity within you. Gather followers, build an empire, start a legacy. Will you be merciless and power-hungry? Or benevolent and kind? Begin your rise to immortality in this massive persistent Dungeons & Dragons 5th edition campaign.
---